Review of local violinist Roy Malan
By Scott MacClelland (this is reprinted from Performing Arts Monterey Bay)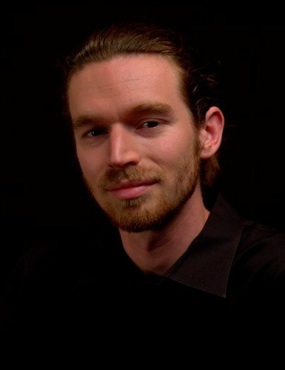 Christ Lutheran Church, an intimate sanctuary perched untranquilly close to the noisy interchange of Highway 1 and Freedom Boulevard in Aptos, still manages to give refuge to the faithful followers of the Santa Cruz Chamber Players. They, the faithful, were renewed and rewarded Sunday afternoon when local violinist Roy Malan performed a program of music by three Hungarian master composers, Liszt, Bartók and Dohnányi. Malan's participating colleagues were pianist Ian Scarfe (pictured), clarinetist Paul Miller, cellist Stephen Harrison, violinist Susan Freier and violist Polly Malan.
Miller was there for Bartók's Contrasts, written in 1938 for Benny Goodman and Joseph Szigeti. (They and the composer recorded the piece in 1940; that original can be found on YouTube.) Why Bartók chose that title is a puzzle. Kaleidoscope might have made more sense, given the range of sonic effects and instrumental combinations on offer. A slow 'recruiting' dance opens the 18-minute piece, followed by a nocturnal scene in which the violin and clarinet play at length in close harmonies. The final movement is a quick dance with a lyrical center section, culminating in a lengthy solo for the violin. It proved to be the most brilliant, original and challenging piece of the afternoon.
The program opened with Liszt's Hungarian Rhapsody No. 9 "Carnival at Pest" in an arrangement for piano trio. As the original was for piano alone, this version essentially uses violin and cello to double what was first in the keyboard. Its three movements celebrate high times in the town opposite Buda across the Danube, all very festive and gypsy.
Malan remarked that all three composers were equally brilliant pianists, though contemporaries Bartók and Dohnányi, who both lived out their later years in the US, went in two very different directions. The former opted to create his own stylistic tropes on authentic Hungarian folk music (as opposed to gypsy music) while the latter steeped himself in the tradition of Brahms. This was apparent in both of their works on the program. Dohnányi was 17 when composed his Piano Quintet in C Minor, in 1895. For its formal template it borrows from Brahms' Quintet in F Minor, but reverses the order of the second and third movements. The Brahms influence is fairly obvious but the teenage composer had already developed his own distinctive inflections. The wistful trio of the scherzo movement sounded especially like the German composer in his "autumnal" late years. A big, rich viola solo opened the slow movement. The finale, in ¾ time, served up a memorable second theme and later a fleshed out fugue.
The playing here was greatly satisfying, the extraordinary Scarfe underpinning all three works with a marvelous sense of balance and authority. Any chamber group in need of a masterful keyboard talent should make a note of his name.