2021-2022 Season
Concert One

A World Tour of Nationalist Trios
Music by Turina, Piazzolla, Dvořák
Saturday, November 6, 2021 7:30 pm
Sunday, November 7, 2021 3:00 pm
THE VERVE TRIO:
Chia-Lin Yang, Concert Director and Piano
Elbert Tsai, Violin
Brady Anderson, Cello
Verve Trio, the group that wowed us in 2019 with "Three Trios, Three Eras," returns with three more sensational trios. These works by Turina, Piazzolla, and Dvořák, reveal each composer's affinity for the folk music of his homeland—plus a nod to America. This enticing array brims with myriad styles: Andalusian, Bohemian, tango, and jazz!
---
Concert Two

Gabriel Fauré and His Circle of Influence
Music by Martinů, Boulanger, Saint-Saëns, Kodály, Bloch and Fauré 
Saturday, July 9, 2022 7:30 pm
Sunday, July 10, 2022 3:00 pm

THE NISENE ENSEMBLE:
Cynthia Baehr-Williams, Concert Director and Violin
Chad Kaltinger, Viola
Kristin Garbeff, Cello
Kumi Uyeda, Piano
Gabriel Fauré (1845-1924) was a universally admired composer, organist, pianist, and teacher. Modern audiences now know him as one of the most influential composers of his entire generation, his profoundly elegant music creating a bridge between the end of Romanticism and our own modern era!
This must-see concert highlights the joyous and sublime influences that Fauré's music had on his friends, students, and other composers—an influence that continues to this day!
---
Concert Three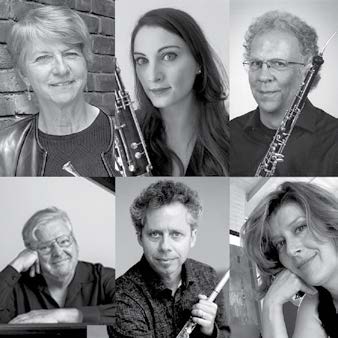 Beethoven, Bagatelles, and Music for Winds and Piano
Music by Beethoven, Françaix, Ligeti, Jon Scoville, Couperin
Saturday, September 17, 2022 7:30 pm
Sunday, September 18, 2022 3:00 pm
Ivan Rosenblum, Concert Director and Piano
Lars Johannesson, Flute
Peter Lemberg, Oboe
Erica Horn, Clarinet
Michelle Reem, Bassoon
Susan Vollmer, French Horn
Beethoven's 250th birthday celebrations started in 2020 and haven't stopped yet! Proclaiming Beethoven's genius is always in order and this concert delivers the best of the best.
The bagatelle "genre" was a Ludwig favorite, so naturally we'll include a few of his own, along with those of Couperin, Ligeti, Kapustin, and Santa Cruz's very own Jon Scoville. For even more variety, the concert includes a rarely performed gem for wind quintet by Jean Françaix, and concludes with Beethoven's Wind & Piano Quintet.
As a master of unconventionality in both his music and personality, we know Ludwig would applaud our unusual programming!
---
Concert Four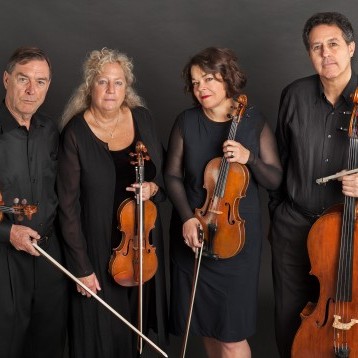 Elegant Exuberance
Music by Grieg, Schubert, Schumann
Saturday, March 12, 2022 7:30 pm
Sunday, March 13, 2022 3:00 pm
Roy Malan, Concert Director and Violin
Susan Freier, Violin
Polly Malan, Viola
Stephen Harrison, Cello
James Winn, Piano
"Merriam-Webster defines exuberance as "the quality of being joyously unrestrained or enthusiastic," and never in a concert of chamber music can this sentiment apply more! You'll hear three unique masterpieces from three of the world's greatest composers, each in the prime of their compositional powers: Edvard Grieg, Franz Schubert, and Robert Schumann!
The concert begins with the Allegro from Schubert's stunning String Trio in Bb, D471, followed by another tour de force, Grieg's Sonata for Violin and Piano in C Minor! The concert ends with Schumann's astonishing Piano Quintet in Eb, Opus 44.
Photo by Steve DiBartolomeo
---
Concert Five

The Hero's Journey:
Music by Beethoven, Prokofiev, Stravinsky, Lili Boulanger, Ben Dorfan
Saturday, April 2, 2022 7:30 pm
Sunday, April 3, 2022 3:00 pm
Ben Dorfan, Concert Director and Piano
Jeff Gallagher, Clarinet and Narration
Shannon Delaney D'Antonio, Violin
Kristin Garbeff, Cello
In this concert, we explore the theme of overcoming challenging circumstances.
Beethoven's Op. 11 Trio is a product of the composer's return to health after a severe illness. Prokofiev's iconic Op. 119 Cello Sonata signifies a remarkable victory over Soviet-era censors. Stravinsky's compact masterpiece the Suite from L'Histoire du Soldat, came to be when the 1918 flu pandemic made it impossible to perform the original theater version. Completed in the final year of her life, Lili Boulanger's energetic D'un matin de printemps is seemingly an act of defiance towards her declining health. Initially programmed for SCCP's 2019-2020 season, Ben Dorfan's Clarinet Sonata will be a world premiere!
This concert will bring out the hero in all of us!
---
Concert Six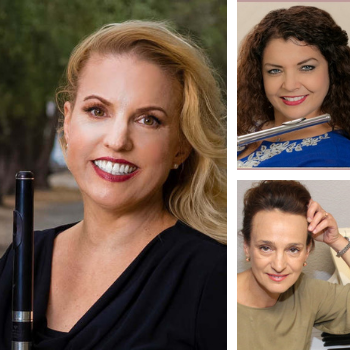 Birds of a Feather
Music by Bach, Berlioz, Dorff, Quantz, Kuhlau, Fuentes Gassón
Saturday, April 30, 2022 7:30 pm
Sunday, May 1, 2022 3:00 pm
Kris Palmer, Concert Director and Flute/Alto Flute/Bass Flute
Teresa Orozco, Flute/Alto Flute
Varya Milinder, Piano
Orlando Castro, Guitar (Guest Artist)
From Peter and the Wolf to Carnival of the Animals, the flute is always the bird. It's never the lion, the tiger, or the bear. But, it's fast and it soars high with the wind. Flutists Kris Palmer and Teresa Orozco celebrate this beautiful instrument, with pianist Varya Milinder lending her immense talents.