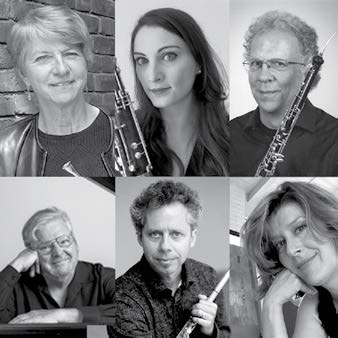 Beethoven, Bagatelles, and Music for Winds and Piano
Music by Beethoven, Françaix, Ligeti, Jon Scoville, Couperin
Saturday, February 19, 7:30 pm
Sunday, February 20, 3:00 pm
Ivan Rosenblum, Concert Director and Piano
Lars Johannesson, Flute
Peter Lemberg, Oboe
Erica Horn, Clarinet
Michelle Reem, Bassoon
Susan Vollmer, French Horn
Beethoven's 250th birthday celebrations started in 2020 and haven't stopped yet! Proclaiming Beethoven's genius is always in order and this concert delivers the best of the best.
The bagatelle "genre" was a Ludwig favorite, so naturally we'll include a few of his own, along with those of Couperin, Ligeti, Kapustin, and Santa Cruz's very own Jon Scoville. For even more variety, the concert includes a rarely performed gem for wind quintet by Jean Françaix, and concludes with Beethoven's Wind & Piano Quintet.
As a master of unconventionality in both his music and personality, we know Ludwig would applaud our unusual programming!
View Full Program     View Program Notes
Tickets for Concert Three will be available soon! Sign up for our mailing list to be notified once tickets are on sale.