2019-2020 Season

Concert One
Blowing in the Wind!
Sweet and Spicy Music for Woodwinds, Piano, and Cello
Music by Von Weber, Glinka, Martinu, Villalobos, Paquito D' Rivera
Saturday, October 19, 7:30 pm
Sunday, October 20, 3:00 pm
Aude Castagna, Concert Director and cello; Lars Johannesson, flute; Jeff Gallagher, clarinet; Vlada Volkova-Moran, piano
Our "Blowing in the Wind" concert features contrasting timbres of flute and clarinet in team with piano and cello. We warm up with the classical period and Carl Maria Von Weber's flute trio of 1818, move into the Russian Romantic style with Michael Glinka's 1832 Trio Pathetique, and then shift to two modern works: Bohuslav Martinu's 1944 flute trio and Heitor Villa-Lobos' 1950 Jet Whistle, a interlude joke for flute and cello. To complete our musical journey, we cross over to world music with two Cuban dances written by contemporary Cuban Grammy award winning composer, saxophone and clarinet prodigy Paquito D' Rivera.
Photo of Aude Castagna by Neil Simmons, professional photographer.
Concert Two

Virtuosity Defined
Musical Creativity and Artistic Expression Beyond the Flying Fingers
Music by Bach, Paganini, Javier Contreras, Ursula Kwong-Brown 
Saturday, November 23, 7:30 pm
Sunday, November 24, 3:00 pm
Kris Palmer, Concert Director and flute; Steve Lin, guitar; Isaac Pastor-Chermak, cello
The Black Cedar Trio brings their award-winning blend of flute, cello, and guitar with "Virtuosity Defined." The program includes music of Bach and Paganini, plus new music by Chilean composer Javier Contreras and American composer Ursula Kwong-Brown. After the trio's recent San Francisco concert, The Rehearsal Studio blog wrote, "Contreras' music was an examination of not only the unique sonorities of each of the three instruments but also a rich study of how those sonorities could be blended in different combinations…clearly a major undertaking; but those willing to listen to it attentively were richly rewarded."
Concert Three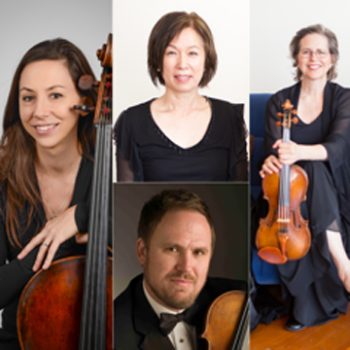 From the Old World to the New:
Schubert and 21 st Century America
Music by Schubert, Rebecca Clarke, Henry Mollicone, John Wineglass, Emily Wong
Saturday, January 11, 7:30 pm
Sunday, January 12, 3:00 pm
Kristin Garbeff, Concert Director and cello; Cynthia Baehr-Williams, violin; Chad Kaltinger, Viola; Kumiko Uyeda, Piano
Travel with us through time as we begin with Schubert in 19th century Europe and emerge in California in the 21st century. The program begins with Schubert's masterful Piano Trio No. 1 in B-flat Major then moves to the new world with Morpheus, Rebecca Clarke's impressionist-inspired work for viola and piano. From there we explore the beauty and tragedy of 21st century American composers, all of whom have ties to Santa Cruz and the SF Bay Area. Henry Mollicone's heaven-inspired work for violin and piano was written in remembrance of his dear friend. John Wineglass' piano trio explores new soundscapes with haunting melodies as it depicts the last days of Diana, Princess of Wales. Last on the program is Emily Wong's jazz-influenced tribute to the victims of September 11th.
Concert 4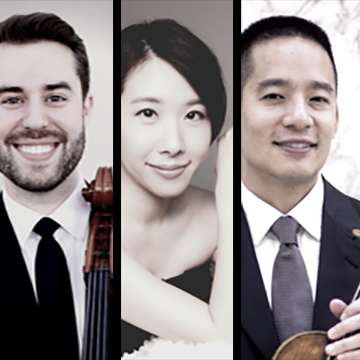 Three Trios, Three Eras
Music by Beethoven, Anton Arensky, Nikolai Kapustin
Saturday, February 29, 7:30 pm
Sunday, March 1. 3:00 pm
Chia-Lin Yang, Concert Director and piano; Elbert Tsai, violin; Brady Anderson, cello
The development of the piano trio will be presented in a musical journey through three centuries–from Beethoven's regal Archduke, which is widely seen as his crowning achievement in the genre, to Anton Arensky's turbulent Piano Trio No. 1 with its stormy drama and haunting melodies, and finally with the audacious Divertissement by Nicholai Kapustin, who has incorporated classical structure and jazz style to form his tremendously unique language. Featuring UCSC piano faculty Chia-Lin Yang, San Francisco Conservatory of Music violin faculty Elbert Tsai, and Bay Area cellist Brady Anderson.