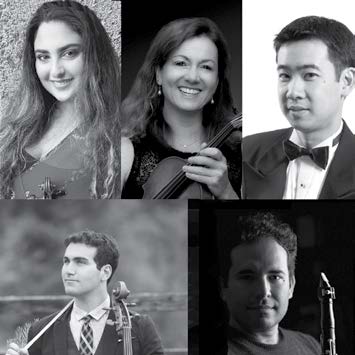 Hidden Gems, Arrangements, and New Commissions
Music by Mozart, von Weber, Spohr, Glazunov, Golijov, de Falla, Tchaikovsky, and Chad Cannon
Saturday, April 30, 7:30 pm
Sunday, May 1, 3:00 pm
FARALLON QUINTET:
Matthew Oshida, Concert Director and Violin
Jose Gonzalez Granero, Clarinet
Ani Bukujian, Violin
Elizabeth Prior, Viola
Evan Kahn, Cello
The clarinet quintet genre—string quartet plus clarinet—was first created by Mozart when he wrote the beloved Quintet in A Major in 1789. Since then many composers followed suit: there are more than 600 clarinet quintets that are mostly unknown to audiences.
Farallon Quintet was formed in 2012 with a mission to introduce audiences to the rich, yet relatively unfamiliar, clarinet quintet repertoire with hidden gems, new composer commissions, and innovative arrangements.
View Full Program     View Program Notes
Tickets for Concert Six will be available soon! Sign up for our mailing list to be notified once tickets are on sale.