Concert Six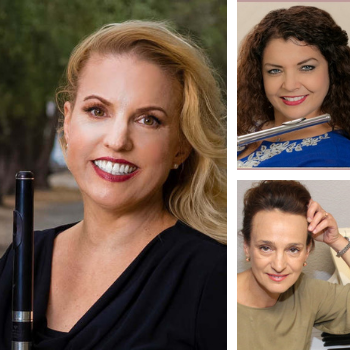 NEW ARTISTS!
Unfortunately, Farallon Quintet was forced to cancel due to unforeseen circumstances unrelated to the pandemic. We are thrilled to announce a new Concert Director and program for Concert 6!
Birds of a Feather
Music by Bach, Berlioz, Dorff, Quantz, Kuhlau, Fuentes Gassón
Saturday, April 30, 7:30 pm
Sunday, May 1, 3:00 pm
Christ Lutheran Church
10707 Soquel Drive, Aptos
Kris Palmer, Concert Director and Flute/Alto Flute/Bass Flute
Teresa Orozco, Flute/Alto Flute
Varya Milinder, Piano
Orlando Castro, Guitar (Guest Artist)
From Peter and the Wolf to Carnival of the Animals, the flute is always the bird. It's never the lion, the tiger, or the bear. But, it's fast and it soars high with the wind. Flutists Kris Palmer and Teresa Orozco celebrate this beautiful instrument, with pianist Varya Milinder lending her immense talents.
Tickets for Concert Six are available now!
IMPORTANT: All tickets must be purchased online or through the mail prior to the concert. Tickets will not be available at the door. Proof of full vaccination with matching ID and masks will be required for all concerts.
Click here
for complete COVID-19 Health & Safety Requirements.