Made in Vienna
Music by Mozart, Haydn, and Schubert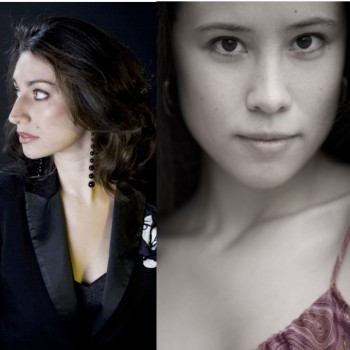 Saturday, January 14, 7:30 pm
Sunday, January 15, 3:00 pm
Solmaaz Adeli, Concert director and voice
Elizabeth Schumann, Co-concert director and piano
Shannon Delaney, violin; Rebecca Wishnia, violin
Chad Kaltinger, viola; Kristin Garbeff, cello
'Made in Vienna' brings audiences traditional works, such as Haydn's Trio in C Major for piano, violin, and cello, inspired in London, and composed after Haydn returned to Vienna. You'll hear well-known Schubert Lieder, including Rosamunde and Der Tod und Das Mädchen for voice and piano, composed in Vienna between 1817 and 1825.
The second half of the concert features less common pieces by Mozart, including selections from 6 Preludes and Fugues (from Bach transcriptions) for violin, viola, and cello.
We finish with Haydn's Arianna à Naxos, a setting of the famous Greek mythological story of Princess Ariadne's desertion by Theseus on the island of Naxos.  Originally written for voice and keyboard, this transcription features mezzo-soprano and string quartet
Enjoy the spirit of Vienna right here, in Santa Cruz.
Program Notes
Tickets for Concert Three may be purchased online
Buy Tickets For This Concert