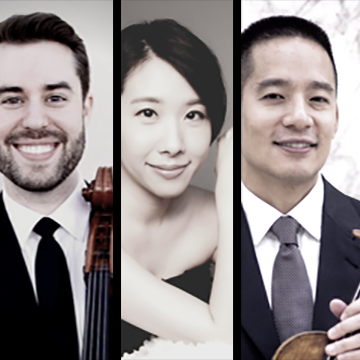 Three Trios, Three Eras
Music by Beethoven, Anton Arensky, Nikolai Kapustin
Saturday, February 29, 7:30 pm
Sunday, March 1. 3:00 pm
Chia-Lin Yang, Concert Director and piano; Elbert Tsai, violin; Brady Anderson, cello
The development of the piano trio will be presented in a musical journey through three centuries–from Beethoven's regal Archduke, which is widely seen as his crowning achievement in the genre, to Anton Arensky's turbulent Piano Trio No. 1 with its stormy drama and haunting melodies, and finally with the audacious Divertissement by Nicholai Kapustin, who has incorporated classical structure and jazz style to form his tremendously unique language. Featuring UCSC piano faculty Chia-Lin Yang, San Francisco Conservatory of Music violin faculty Elbert Tsai, and Bay Area cellist Brady Anderson.
View Full Program     View Program Notes
Tickets may be purchased online.
Buy Tickets For This Concert