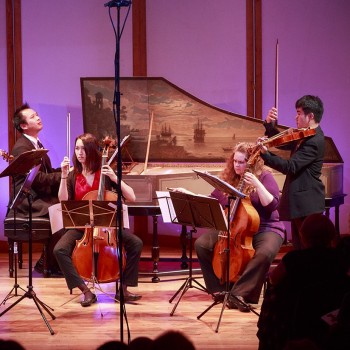 MUSA—Chinese Baroque
Music by Rameau, Pedrini, Pu'an, and more
Saturday, March 16, 7:30 pm
Sunday, March 17, 3:00 pm
Derek Tam, concert director, harpsichord; Rita Lilly, soprano; Mindy Ell Chu, mezzo-soprano; Addi Liu, violin and viola; Laura Gaynon, cello; David Wong, guqin and guzheng
"Chinese Baroque" explores the dynamic and complex cultural exchanges between Western Europe and China in the 17th and 18th centuries, through the lens of music.  Enjoy rare delights ranging from the only Western-style sonatas written in China before the 20th century to a tune played by the Emperor Kangxi!
MUSA is a chamber ensemble dedicated to historically informed performances of Baroque and Classical repertoire, as well as new music for period instruments, which showcases the talents of younger area professionals.
View Full Program     View Program Notes
Tickets may be purchased online.
Buy Tickets For This Concert