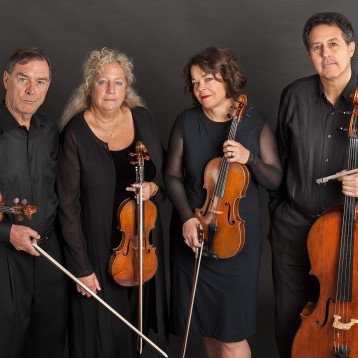 CANCELLED
This concert has been CANCELLED and moved to next season. The decision to cancel was a difficult one, but we're following the guidelines established by the California Department of Public Health who are recommending the cancellation of mass gatherings statewide. The health and safety of our wonderful patrons is of paramount interest to our organization. Thank you for your patronage, and patience in this difficult time! We are looking forward to seeing you at our next concert.
Elegant Exuberance
Music by Grieg, Schubert, Schumann
Saturday, March 21, 7:30 pm
Sunday, March 22, 3:00 pm
Roy Malan, Concert Director and violin; Susan Freier, violin; Polly Malan, viola; Stephen Harrison, cello; Robin Sutherland, piano
"Merriam-Webster defines exuberance as "the quality of being joyously unrestrained or enthusiastic," and never in a concert of chamber music can this sentiment apply more! You'll hear three unique masterpieces from three of the world's greatest composers, each in the prime of their compositional powers: Edvard Grieg, Franz Schubert, and Robert Schumann!
The concert begins with the Allegro from Schubert's stunning String Trio in Bb, D471, followed by another tour de force, Grieg's Sonata for Violin and Piano in C Minor! The concert ends with Schumann's astonishing Piano Quintet in Eb, Opus 44. Mark your calendars today!
View Full Program     View Program Notes
Photo by Steve DiBartolomeo